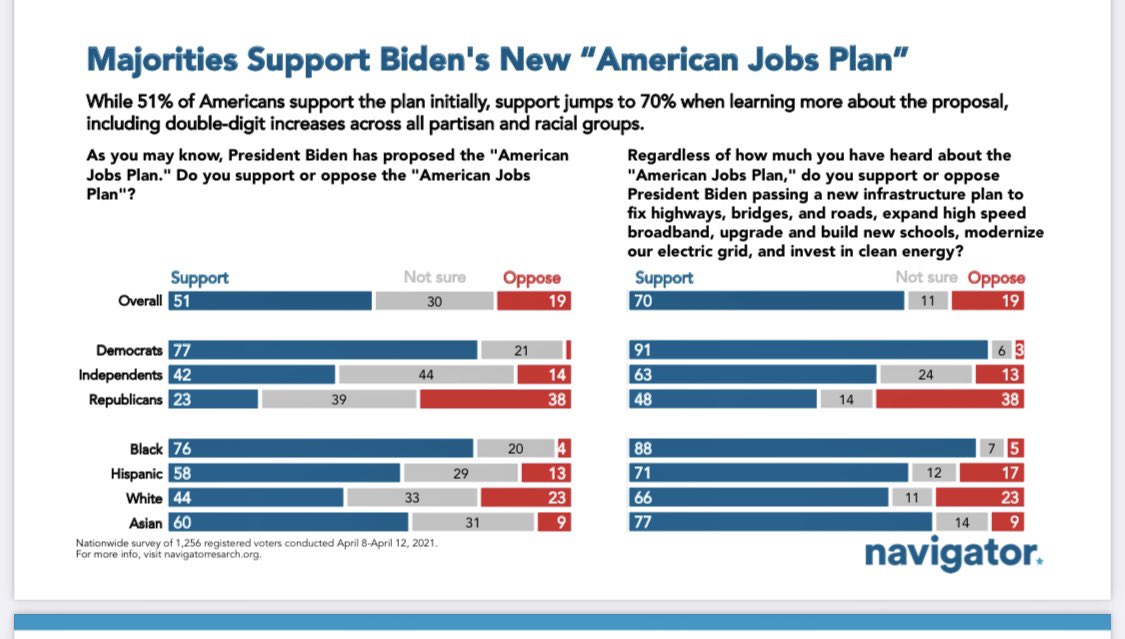 Solid support for the American Jobs Plan! The more people know, the more they support it. https://t.co/H3x8bE6z4x
@WHCOS And the numbers are even higher when asked about raising corporate tax rates to help pay for it. Americans are united, even if Congress isn't.

@WHCOS Republican support goes from 23% to 48% when they're told what's in the bill. We'd be in better shape as a country if they were better informed on everything.

@WHCOS @Ameya_Pawar_IL He was the first to talk about creating a vaccine distribution strategy - the govt didn't listen and now our nation faces an acute shortage. #VisionaryRahul https://t.co/w47F3kVx98

@WHCOS Why would anyone oppose? The way it's worded in the second half is so basic that if you oppose, then what are you for? Living in Medival times? Do they want to go back to no infrastructure? Because if we do nothing, that's what will happen.

@WHCOS @SymoneDSanders Excellent! Since you two have @POTUS and @VP ear, please let them know I applaud the effort to bring troops home. But please do something to expedite visas for Afghanistan, Iraq & Syria who worked as our interpreters! These people helped America & we need to keep promises. Asap!

@WHCOS @joncoopertweets Let's get it done! Republicans don't want to participate in government unless they are in charge of it.